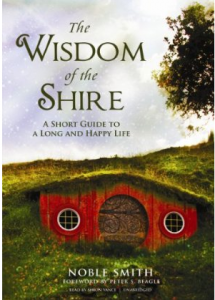 UPDATE: This contest has ended. Congratulations to the two winners!
@hobbitmoments
@darth_sydious
TWITTER CONTEST
On February 1st the unabridged audiobook of The Wisdom of the Shire will be released by Blackstone Audiobooks. Now is your chance to curl up by a cozy fire with a mug of dark brown beer, and listen to the book that Ethan Gilsdorf of Wired.com called "A definitive guide to Tolkien's worldview."
The Wisdom of the Shire audiobook is read by award-winning book reader Simon Vance (Booklist Magazine's "Voice of Choice").
Entering the contest is easy. Just Tweet what audiobook any Tolkien character might listen to. Be funny, clever, wry, subversive and/or irreverent! Winners will be chosen by me based on originality. Be sure to include my handle @ShireWisdom. Example:
Treebeard's favorite audiobook? The Botany of Desire: A Plant's-Eye View of the World. @ShireWisdom #ShireWisdomContest
Two (2) winners will be chosen by me amongst entries. The CDs will be mailed to the winners post-haste! Contest ends on 2/1/2013.