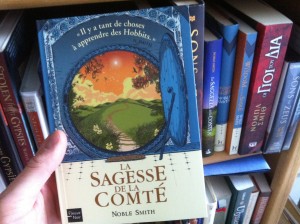 The French translation of The Wisdom of the Shire (La Sagesse de la Comté) is now available in France. Here is the introduction that I wrote for the Fleuve Noir edition.
When I found out that my little book about Hobbits was going to be translated into French, I let out a shout of joy! I have such strong emotions associated with France and especially Paris—a city where I lived during a pivotal time in my youth; a magical city I explored with the wide-eyed wonder of a kid who'd grown up in the bleak, culture-starved suburbs of the Pacific Northwest during the seventies and eighties.
I had gone to France at the age of twenty, during the Bicentennial of the French Revolution, to live with my girlfriend, Kendra, who was working there as a fashion model. And I felt like Bilbo leaving the boring Shire for the first time and entering the enchanted world of the Elves in Rivendell.
Kendra and I had met and fallen in love two years before at a funky liberal arts college in Olympia, Washington (Nirvana played one of their first concerts ever in the theatre building on our campus the same month we started dating). Kendra and I instantly bonded over our love of J.R.R. Tolkien. Every night during our freshman year I read to her out loud from The Lord of the Rings.
After getting discovered by a famous New York modeling agency, Kendra dropped out of college and moved to Paris. And soon, lured by the siren song of my beloved as well as the allure of that famous city, I followed after her. I was like some bewitched Man in Middle-earth chasing after an elusive Elf-maid (echoes of the tale of Beren and Lúthien from Tolkien's The Silmarillion).
In Paris we had a little apartment a block away from Luxembourg Gardens. It was a cozy, cheerful place decorated with nothing more than our stacks of books. We didn't have a TV, so at night we danced to the music of Prince and the Beatles playing on our cassette deck, or sometimes we simply sat in our room and talked about life, drinking tea. Our one-room apartment was our own little Hobbit-hole on Rue Crébillon.
Nearly every day we walked to the nearby bustling market and bought fresh food and vegetables for our meals. We ate enough delicious baguettes to fill a large bakery, and always covered our bread with liberal amounts of thick French butter (a practice that Bilbo, who shuddered at the notion of "butter scraped over too much bread," would have greatly approved). At night we went on long strolls, kissing by the Fontaine Saint-Sulpice, or holding hands as we stood on the Pont des Arts, watching the boats go by.
Whenever Kendra had to fly off for runway shows in Milan or magazine shoots in exotic locales in Africa, I stayed in Paris, teaching myself how to be a writer, studying art with a passion, haunting bookstores like Shakespeare and Company, and hanging out in the iconic café La Palette. There, ensconced in the snug wood-paneled room, I fortified myself with strong cups of coffee served to me by an avuncular waiter named Jean, scribbling in my Moleskin notebooks, while occasionally taking breaks for furious bouts of chess with my best friend, Murat; or comparing notes with his sister Elif for the novels we were both fervently writing.
Kendra and I eventually left France and went on to have new adventures. But many of the simple joys of life—things I talk about in The Wisdom of the Shire—we learned during our sojourn in your country. For you French, if you didn't already know it, are a lot like Hobbits: connoisseurs of fine food and drink; great walkers and lovers of nature; a people who value deep friendship over superficiality and who are intense conversationalists. The kind of people who, like Merry and Pippin, burst into happy song at bars! And just like the Shire-folk you live in a society built upon the majestic principle of egalitarianism.
Bilbo wrote in one of his songs, "The Road goes ever on and on/Down from the door where it began." Sometimes that great Road of life leads to someplace as magical as France, and those of us who have been lucky enough to have lived there keep that place in our hearts forever.