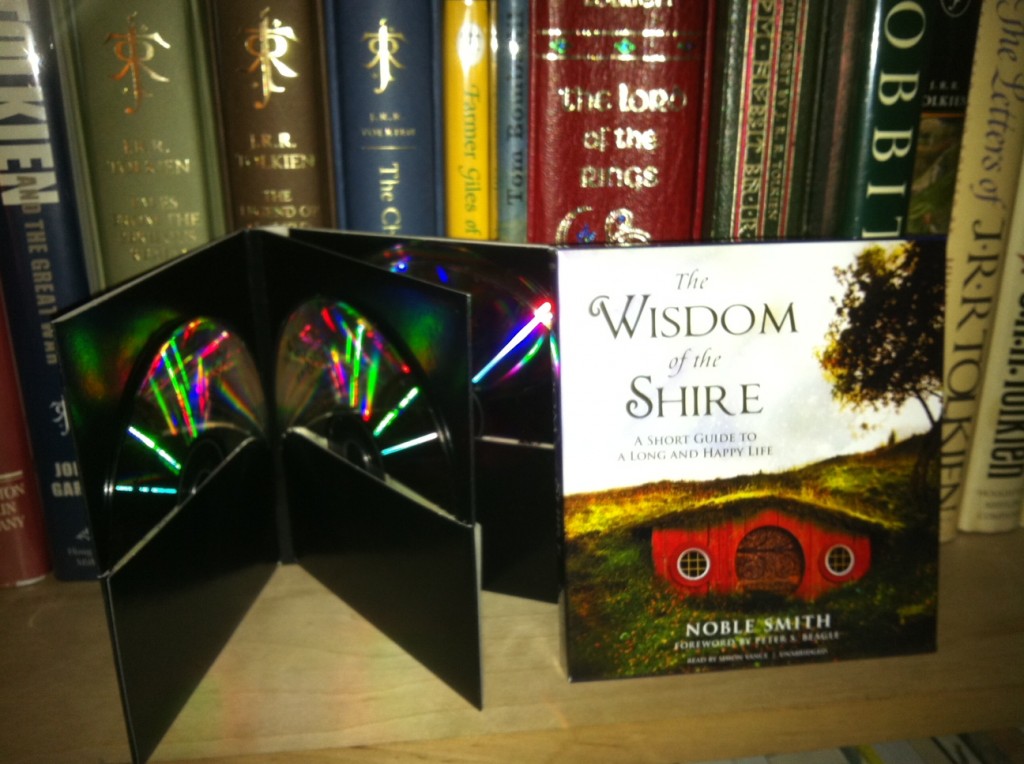 Get your favorite dark brown beer or cup of tea, snuggle up by the fire in your Hobbit-hole, and listen to the audiobook version of the work that Wired.com called "a definitive guide to Tolkien's worldview."
Praised by Middle-earth fansite TheOneRing.net as "funny, insightful and thought provoking," The Wisdom of the Shire unabridged audiobook is read by award winning reader Simon Vance (Stieg Larsson's Millennium Trilogy).
Click here to enter the goodreads contest to win the book on CD.
I'm really pleased with how the audiobook turned out for The Wisdom of the Shire (click here to listen to a sample). Blackstone Audiobooks did the audiobook for my novella Stolen from Gypsies over a decade ago, and that recording was brilliant. But The Wisdom of the Shire audiobook is even better. Simon Vance does an amazing job, and it's fun for me (an American from the West Coast) to hear my book about Tolkien read by a Briton who has such a fabulously Shire-ish voice.
Before Vance recorded the book we had a phone conversation where we went over all of the pronunciations for Tolkien's character names as well as the lines of Elvish. Vance wanted to make certain he got everything right. I also gave him all of the corrections that will appear in the paperback version of the book. There were a couple of egregious slip-ups (I won't call them typos!) that occurred during the editing process. At one point I described Galadriel's ring as having been made by Sauron. Egads! I must have had too much of Gandalf's funny pipe weed (the kind that makes Radagast go all crossed eyed in The Hobbit film) when I wrote that part, for I correctly identified the maker of the ring Nenya as the Elven smith Celebrimbor  in one of the book's sidebars. (See my recent The Warrior Trilogy blog for more about the editing perils of getting a book ready to print.)
Anyway, Vance took all of these changes and added them to his recording "script" of the book. He also came up with a clever way of making the sidebars and factoids less intrusive by integrating them into the flow of his reading. Besides that, he told me a very cool story about meeting Patrick Stewart when he, Vance, first came to Hollywood. Great guy. Amazing reader. I'm chuffed.