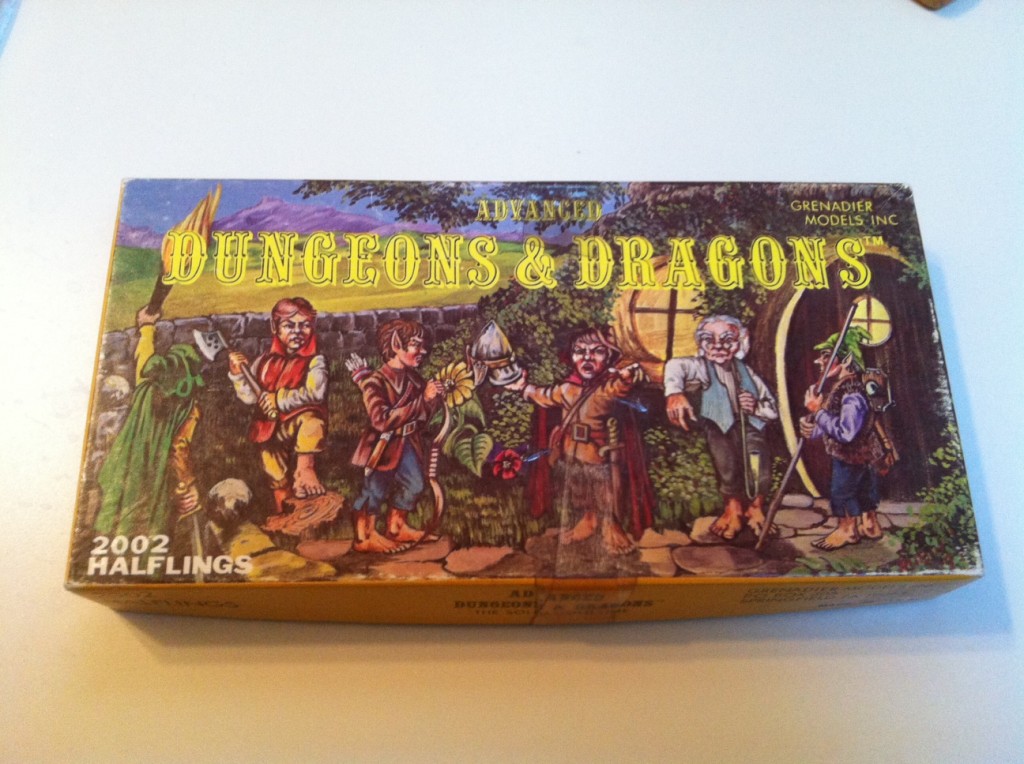 My mom found this box of Dungeons and Dragons figurines today in her garage, and seeing it sent me hurtling back into my childhood. I bought this set of "Halflings" 35 years ago when I first got into D&D—two years before I had even read The Lord of the Rings. I had no idea what Halflings were! (The company Grenadier could not legally use the word "Hobbit." The word Halfling, however, is of Scots origin and was not invented by Tolkien. It basically meant a geeky teenager! Like all D&D players!)
The box would have been filled with tiny lead figurines, completely colorless (because you had to paint them yourself). Here's what the contents of the Halfling set would have looked like in 1980. I got this photo from the excellent site dndlead.com.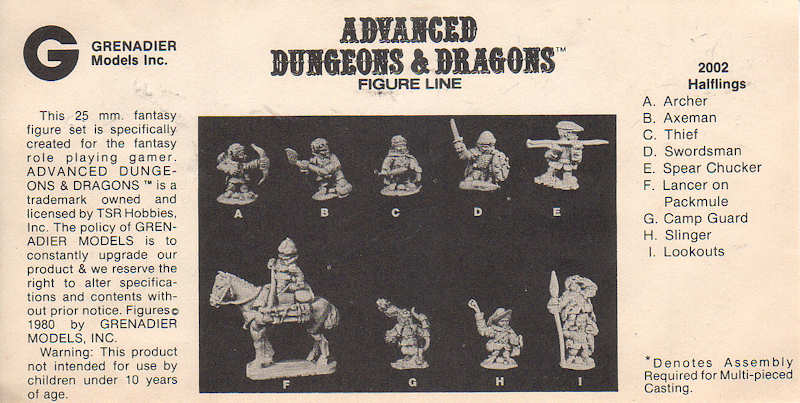 The Halfling C "Thief" is Bilbo, of course. The "Slinger" must have been inspired by the prologue to The Fellowship of the Ring where Tolkien says that Hobbits are adept with slings. Whoever designed these figurines had a whimsical sense of humor, too. The "Lookouts"–one Halfling standing on the other's shoulders (Merry and Pippin?)–is a classic Dungeons & Dragons figurine.
There were other Middle-earth inspired sets from this series like the "Orcs" and "Dwarves." (Note how the D&D gamers referred to the creations of the Vala Aulë in Tolkien's vernacular as "Dwarves" rather than "Dwarfs.") You can check out all of the sets from this 1980 series here, and also see what some of them would have looked like in all their painted glory.
Sadly, my box was empty of its figurines. I sold the figurines at a garage sale in the mid 90's in a fit of anti-nostalgia. (What a spectacular dumbass I was.) Somehow that empty Advanced Dungeons and Dragons figurine box remained amongst my possessions in an old cardboard moving box. Those tiny lead statues had meant a lot to me back in the day. For people who loved Middle-earth and The Lord of the Rings, Dungeons & Dragons was a refuge and an exploration into the realm of pure imagination and fantasy. It was an extension of Middle-earth that lived and breathed with one's friends around a crappy card table in somebody's moldy basement. You were no longer a dork: you were a Ranger plunging the depths of a Moria-like labyrinth!
I'm happy that I actually saved some of the best figurines that I had painted when I was a kid. Here they are. They'd been tucked away in a box for about 30 years. I spent hours and hours painting hundreds of figurines. I used an old jeweler's lighted magnifying glass that I found at the Goodwill so that I could paint the smallest details on these statues: the biggest was no taller than an inch and a quarter. Each one of these figurines has pupils painted in their tiny eyes. The warrior berserker dude has armpit hair!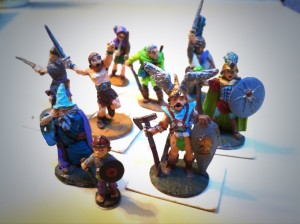 My son (who is just about to turn 9) is discovering the thrill of Dungeons & Dragons, and he is satisfyingly impressed with my little collection of hand painted adventurers. In Ethan Gilsdorf's beautiful memoir Fantasy Freaks and Gaming Geeks he rediscovered his love for fantasy gaming, and in doing so ignited the flame of inspiration (and happiness) in his adult life. Why do so many of us feel like we have to suppress the love of fantasy and creativity that we had as children?
Gotta go talk D&D with my son. He has a ton of questions and wishes I would stop writing this stupid blog.
UPDATE! Since posting this blog I have been overwhelmed by the number of people who have told me that they still have lead figurines stored away in the recesses of their dungeons (aka basements/garages). The guy at my local game store read the blog and announced proudly that he still has that Dungeons and Dragons Halfling set (with all the figurines). I ran into my friend Ephraim (a local farmer/opera singer!) who told me that he used to paint figurines too (he's going to look for them). Mike, the owner of one of the most remarkable Tolkien book collections in the world (@TolkienBooks and MyTolkienBooks) tweeted this amazing photo (see below, click to enlarge) of the complete Der Kriegspielers Custom Cast #LotR Set #1057. This was the set that was based on the character designs from the Ralph Bakshi animated version written by my friend, the great Peter S. Beagle. I am so jealous of @TolkienBooks. We hates him, the precious! (Nicely painted, I might add!)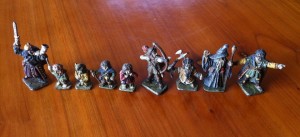 (Above photo Copyright 2013 MyTolkienBooks)