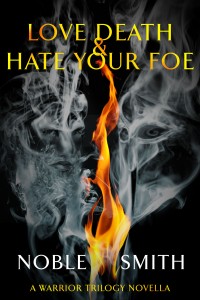 Love Death and Hate Your Foe free novella
What does ancient Greece have to do with Tolkien? The professor's introduction to the classics was through Homer, and he was heavily influenced by Greek mythology. The One Ring itself might be based on the story of the Ring of Gyges (a magical piece of jewelry that gave the wearer the power of invisibility). You can read my blog "Tolkien and the Ancient Greeks" here.
I have been fascinated by the Greeks for about as long as I've been into Tolkien. Especially the Greece of the 5th century BC when so many innovations in art, architecture, theatre and philosophy were all taking place at nearly the exact same time. The era of the so-called "Golden Age of Greece" never would have happened if the Greek allies hadn't defeated the Persian invaders at an obscure place called Plataea. (You can read about my trip to that legendary place here.)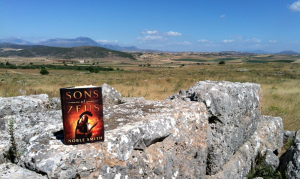 So what is this free novella about?
"Love death and hate your foe" is a saying coined by a Spartan warrior/poet named Tyrtaeus who lived a few hundred years before the Golden Age.  This saying perfectly encapsulates the ethos of the ancient Greek warriors. The idea of dishonor was much more horrible to them than the notion of dying. And thus they were taught to hate the enemy more than they loved their own lives. Only then could they protect their homes and city-states and win everlasting honor. They were sort of like the Boromirs of the ancient world. Can't you just imagine the Man from Minas Tirith  saying something just like what Tyrtaeus said?
My novella Love Death and Hate Your Foe takes place 50 years before my series: the Warrior Trilogy (from Thomas Dunne Books/St. Martin's Press). In my books, one of the heroes is an old man named Menesarkus. He's a famous warrior, general and Olympic champion. He's also a modest farmer who will stop at nothing to protect his family and city-state from invasion by the "Barbarian" Persians who are bent on crushing the pesky and upstart Greeks.
In my tale we get to see Menesarkus as a young man facing death against the seemingly overwhelming might of the Persian invaders. It's set at the Battle of Plataea: one of the greatest battles in the history of the world, on a day that forever changed the course of western history . . . a day of valor and heroism that gave rise to the Golden Age of Greece.
This PDF will only be available as a free download for a limited time, and then it will be offered as a Kindle ebook.
Download the free PDF here. Love Death and Hate Your Foe free novella