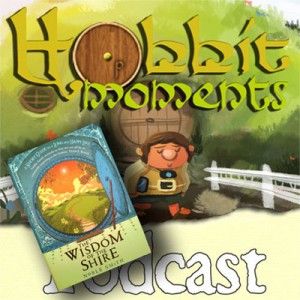 Last week I entered the virtual Hobbit-hole (via Skype) of Tolkienista Milo Broadbelt, the creator of the wonderful site Hobbit Moments. Milo lives in England in a place that very much resembles a real version of the Shire of Middle-earth. He takes stunning photographs of his world, documenting the often overlooked miracles of life: a fallen autumn leaf on a rock; mushrooms springing up amongst leaves; fledglings on a power line.
Milo talks about the world around him with beautiful prose that is often reminiscent of his hero J.R.R. Tolkien, and Milo's philosophy stirs something in my soul:
"By taking the time to look around us, wherever we are, each and every day – to look, really look, not merely glance – the changes each day can be seen and felt and enjoyed. Nature is changing with the seasons, be a part of it and who knows what might change in you?"
Reading Milo's blogs feels like you're taking a walk with Bilbo or Frodo around the Shire. He creates an entrancing link between Tolkien's works and reality. One of these days I wouldn't be surprised if Milo ran into some real Elves, or maybe even Tom Bombadil!
Milo also writes great reviews about Tolkien-related books, posts The Hobbit film news, and talks about cool things like the newest Hobbit Trilogy replicas from Weta (such as Thorin's key).
Listen to Milo interview me about my book The Wisdom of the Shire.
or via Milo's website